Welcome To The AgilePoint Video Library
What is AgilePoint NX?
• AgilePoint is the industry's first general-purpose, enterprise application platform with a layered low-code/no-code architecture.
• AgilePoint uniquely combines low-code/no-code technology with enterprise process automation to deliver automation at scale.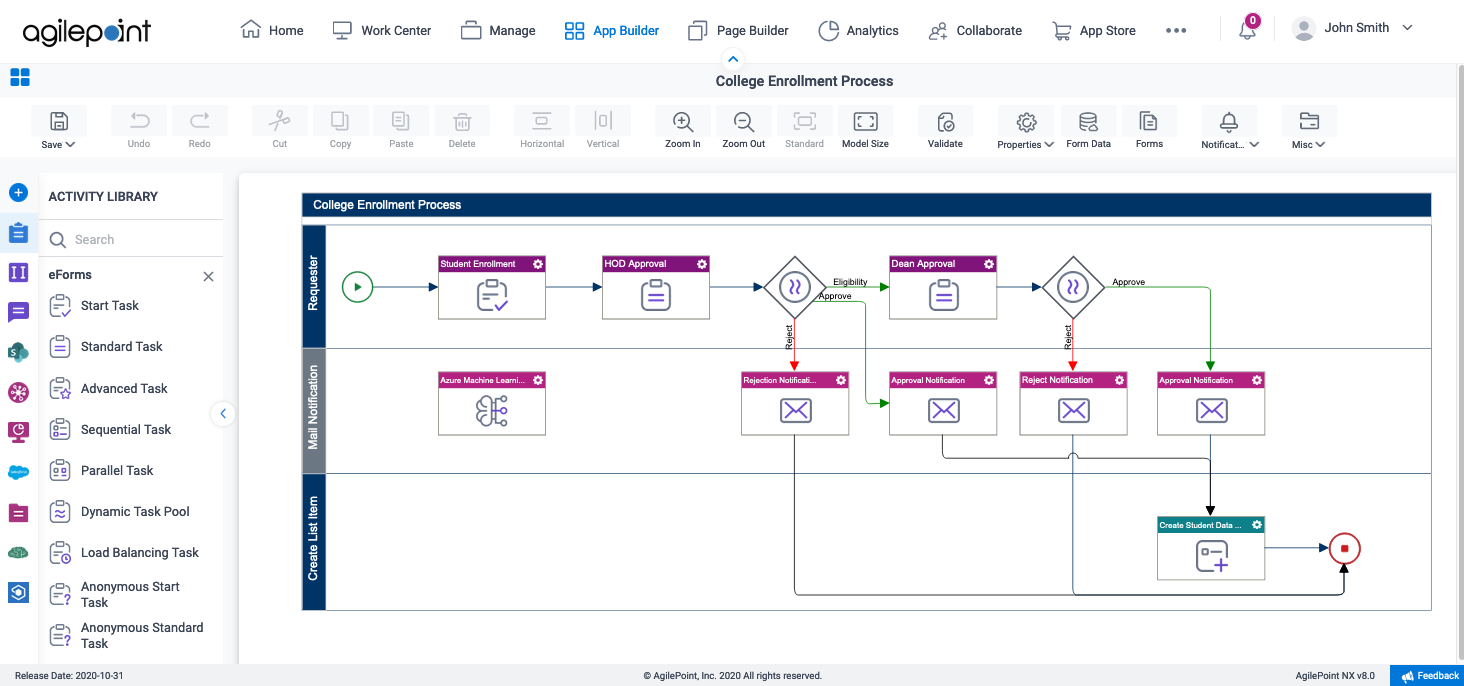 Industry-leading innovation and proven enterprise track records:
• AgilePoint pioneered low-code/no-code innovation in combination with process automation starting in 2003, but not until around 2016 when analysts started advocating for low-code technology.
• AgilePoint has been recognized across multiple industry analyst reports since 2008:
o Gartner iBPMS Magic Quadrant Report o Gartner Low-Code Application Platform Magic Quadrant Report
o Gartner High-Productivity Application PaaS Magic Quadrant Report o Forrester Digital Process Automation for Wide Deployment Wave Report
o Forrester Low-Code Platform for AD& Wave Report
• AgilePoint has enabled its enterprise customers to deliver low-code/no-code success since 2005. See Elbit Systems case study.
• AgilePoint has more than 1000 global customers, including multiple Fortune 100s whose global operations rely on hundreds to thousands of digital processes and business applications built with AgilePoint.
Why AgilePoint is both low-code and no-code? How does it work?
• The AgilePoint no-code layer empowers citizen developers to create process and business applications via drag-and-drop, visual configuration of 700+ no-code activities, 65+ e-Form controls, 15+ dynamic process automation patterns, and 70+ connectors for the most popular enterprise systems and cloud services.
• The AgilePoint low-code layer empowers professional developers to extend the library of no-code functions and maintain complete governance over the solutions.
What types of applications can you create with AgilePoint?
• Departmental and collaborative workflows
• Enterprise, mission-critical, and end-to-end BPM automation applications
• Hybrid digital process automation with RPA integration
• Form-based, multi-channel, digital experience applications without workflow
• General business applications for mobile, forms, spreadsheet, portal, apps, etc
Why AgilePoint?
The powerful combination of enterprise low-code/no-code, robust process automation, and a scalable layered architecture means that AgilePoint is purpose-built to enable both citizen and professional developers in a single platform. This has proven to transform people and processes and has enabled the world's largest enterprises to finally realize all of the benefits of low-code/no-code technology, and the organizational agility to be continuously transformative moving into the future.
Trusted By Industry Leaders
"AgilePoint digitally transformed how The Salvation Army works, allowing us to scale and respond quickly in a time of crisis."
"I find AgilePoint to be a very easy and flexible vendor with highly qualified people."
"Using AgilePoint has resulted in a substantial improvement with customer service, employee productivity, and quality of data collection."
Unlock The Entire Library...
To get access to all AgilePoint videos and other resources like eBooks and case studies, sign up below!